Illegal fishing in the Australian Coral Sea Marine Park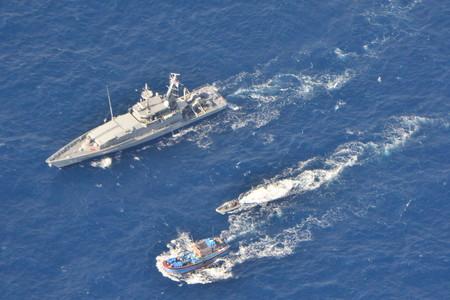 The Coral is being targeted for sea cucumber (bêche de mer) by Vietnamese fishing vessels. The Australian Government is coopororating with foreign governments to detect and stop illegal fishing.
Over the past 12 months, there have been numerous apprehensions of Vietnamese fishing vessels and their crew in Australian waters, in the Coral Sea by Australian Border Force, working in cooperation with the Australian Fisheries Management Authority (AFMA). The vessels have been targeting bêche-de-mer (sea cucumber) illegally in the Australian Coral Sea Marine Park.
Commander Rear Admiral Peter Laver said the apprehensions were the result of Australian Government agencies' concerted efforts to detect and stop illegal fishing in Australian waters.
"The size of Australia's maritime domain may lead these fishers to believe that our seas are unmonitored and therefore freely available to theft," Rear Admiral Peter Laver said. "Our resources, including personnel, water and air-based assets, as well as cutting-edge technology, allow us to monitor and promptly apprehend those in the business of illegal fishing in Australian waters."
AFMA's General Manager Operations Peter Venslovas said that these apprehensions further demonstrate Australia's strong stance against illegal fishing in Australian waters. "Foreign fishers seeking to take advantage and target our fish resources will be caught and run the risk of being prosecuted and having their boats confiscated and destroyed," Mr Venslovas said.
Parks Australia's Manager for Marine Park Compliance, Scott Clementz, said the plundering of Australian Marine Parks cannot be tolerated.
"Stopping illegal foreign fishing is essential for the protection of our marine life and marine parks," Mr Clementz said. "Parks Australia welcomes the rapid and highly effective response by our partner agencies in responding to these damaging activities."
In an effort to address the issue, we are working with foreign governments, implementing educational campaigns at the communities where the vessels originate, increasing monitoring surveillance and interception of vessels and pursuing court action and destruction of vessels to deter these activities.
The harvesting of species, such as bêche-de-mer by foreign fishers in Australian waters is an offence under Australian legislation.
To report any illegal and suspicious fishing activities please call the 24 hour CRIMFISH hotline on 1800 274 634, email intelligence@afma.gov.au or submit an online form.