Enhance tourism and recreation
DISCOVERY OF DISTANT ISLANDS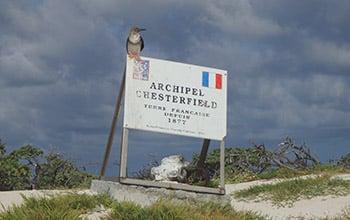 The Chesterfield, Bellona, and d'Entrecasteaux atolls, located several hours by boat from Grande-Terre of New Caledonia, represent a definite potential interest. But they are still unknown to most Caledonians, except for professional skippers living on the territory or owners of sailing boats having already crossed to Vanuatu or Australia. For those who would like to discover the beauty of some emerged lands of the Natural Park of the Coral Sea, is it possible to consider a cruise in the heart of the Natural Park ? In fact, it's all about accessibility. For example, the Chesterfield, Bellona atolls are accessible to medium-sized vessels, listed in large yachts (over 24 m in length) or larger (small sized vessels). Since mid-August 2018, a regulation restricts the tourist activities of the professionals in these zones classified as natural or integral reserve. Reflection is underway for individual pleasure boats, family or sports. Operators may want to embark on the development of original tourism products. The high islands (Walpole, Matthew, Hunter) are preserved by a difficult terrain.
Hold an authorization
It is now necessary to obtain a permission to practice a professional tourist activity in the nature reserves of Chesterfield-Bellona and Entrecasteaux. The reefs of Petrie and Astrolabe are in integral reserves thus prohibited from access. The authorization application file must be completed and completed at least 6 months before the start of the activity.
Do not hesitate to contact the Park team if you have questions about the regulations and their potential impacts on your business.
ANCHORING: PRECAUTIONS TO BE TAKEN
Anchors of ships can cause physical destruction or alteration of species and habitats. The presence of a vessel in one of the areas of the Natural Park of the Coral Sea may also pose a risk of stranding in areas where navigation is made difficult by the presence of barriers and scattered coral reefs. Attention must also be paid to chemical pollution caused by discharges of gray or black water, hydrocarbons, plastic waste, noise pollution ...

Be careful not to introduce voluntary or involuntary invasive species such as bacteria and viruses that may contaminate marine fauna (invertebrates or vertebrates).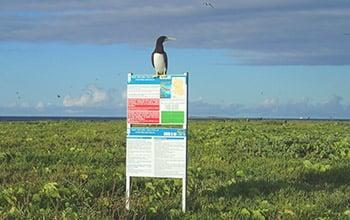 FREQUENCY OF DISTANT ISLANDS : PRECAUTIONS TO BE TAKEN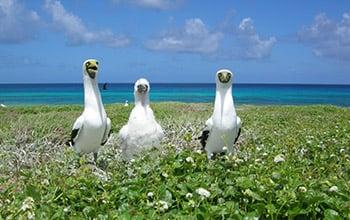 Trampling, fire, noise pollution and any disturbance of wildlife and its habitat, particularly during turtle breeding periods or sedentary or migratory birds, cause the destruction or physical alteration of species and habitats.

Be careful not to introduce voluntarily or unintentionally species such as some considered invasive: rodents, ants, plants.
Any boater traveling aboard a sailboat and wishing to travel to d'Entrecasteaux atolls must make a statement at least 15 days before the maritime affairs, one of the government directorates. The name and type of vessel, its dimensions, registration and home port, the name of the master, the number of persons on board and the purpose and duration of the visit should be specified. Finally, if you are going to stop at d'Entrecasteaux Atolls Nature Reserve, you are bound to respect the regulations in force (limited speed near the islets, anchoring in the sandy areas, visiting itinerary to be borrowed, remaining silent, Limiting night lighting, not feeding animals, touching them, leaving nothing behind before leaving). It is also advisable to apply these good practices to all the islands and reefs of the Natural Park (Chesterfield, Petrie, Walpole, Matthew and Hunter).